About City Mirror & Glass Inc.
Over 15 years of experience coupled with only the most skilled experts will be what makes your project with City Mirror & Glass Inc. a success.
Who We Are and What We Do
When you choose City Mirror & Glass Inc., you are getting over 20 years of hard-earned experience in the custom glass and mirror industry. We pride ourselves in making our clients our primary focus. Prioritizing your customer-care needs and the quality of our custom glass services is of utmost importance to us.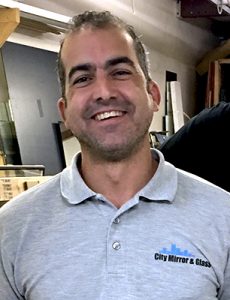 9 years ago, Ramon Barreras, a prominent name in the industry, took over City Mirror & Glass Inc. In little time, City Mirror & Glass Inc. grew to be the triangle's #1 choice for glass and mirror installations. Today, Ramon brings to every project over 20 years of impeccable  industry-specific skills.
Throughout his career, Ramon has placed great importance on quality control and customer care. When he started off, he realized that when a job is not properly accomplished the first time around using the required expertise and high-quality products, the clients are the ones who suffer and end up unduly investing more than they bargained for.
We are a small business focused on directly impacting our local neighbors in
Cary, Raleigh, Apex, Morrisville, Holly Springs, Fuquay Varina, Chapel Hill, Garner, and Clayton
and all surrounding areas. We have a wide variety of custom glass and mirror options such as;
When Ramon witnessed these wrongful instances and not being able to act against such ill-practices, Ramon decided to start his own company, In this new company he would provide the homeowners of the Triangle area the quality that he truly believes they are entitled to.
With a great deal of pride and confidence, Ramon runs the company the way he feels that consumers deserve to be served. He makes sure that the skilled-craftsman that we employ, share the same work ethic and passion that he possesses when he approaches a project. Ramon also ensures our craftsmen enter the project with the explicit goal of getting it right the first time.
Rest assured, City Mirror & Glass Inc. will complete your custom glass project in a timely and efficient manner as well as provide you, our valued customer a satisfaction guarantee!
why choose City Mirror & glass inc
We offer FREE estimates on all our custom glass and custom mirror projects. Fill out our customized estimate form to get your quote back to you by the next business day.
Ready to Upgrade Your Home?​
The end result will not only leave you with a truly elegant and superior product, but it will transform your vision into the home of your dreams.
Get Your Custom Glass Project Started Today!
We offer same day custom glass services in Cary, NC and surrounding areas. We also provide 24-hour custom glass emergency services. For all your custom glass service needs give us a call or email us and we will be happy to assist you!